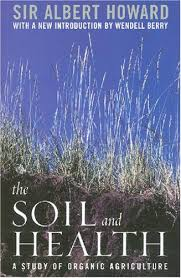 Few of us pay attention to the ground at our feet. Soil, covered over and often ignored, is about to get the attention it deserves. The United Nations General Assembly has declared 2015 as the International Year of Soils.
In the year ahead there will be a global educational focus on the crucial role soil plays in food security, climate change mitigation, and essential ecosystem services.
Soil's rich mix of both mineral and organic has always excited the Land Library, and when we get excited we naturally begin to gather books — one book after another, after another.
For this post, we start with a classic, Sir Albert Howard's The Soil and Health: A Study of Organic Agriculture, with a new introduction by Wendell Berry (pictured above). First published in 1945, this book directly links the health of the soil to the health of people, and the natural world upon which we depend.
Courtney White extends the argument in his 2014 book (also pictured above), Grass, Soil, Hope, which makes the case for soil as a constant sink for carbon dioxide, and so, a natural way of reducing carbon in our warming skies.
Both books are rallying cries for the positive work we can do right now, namely:

Building Soils Naturally: Innovative Methods for Organic Gardening by Phil Nauta, and Start with the Soil: The Organic Gardener's Guide to Improving Soil for Higher Yields, More Beautiful Flowers, and Healthy, Easy-Care Gardens by Grace Gershuny.
Here is something else we hope comes from the International Year of Soils — a sense of wonder, to borrow Rachel Carson's wonderful phrase. Even a lifetime might not be enough to give us an appreciation for the teeming life in a square foot of soil — and how vulnerable that life is. Here's two of our favorite field guides to the wonders of the world below:
The Earth Moved: On the Remarkable Achievements of Earthworms by Amy Stewart, along with James Nardi's wonderfully comprehensive The World Beneath Our Feet: A Guide to Life in the Soil.
Soil is such a vibrant mix of rock, muck, microbes, fungi, and much more. We hope to feature many more great books over the course of the International Year of Soils. For now, here's a soil primer that we love!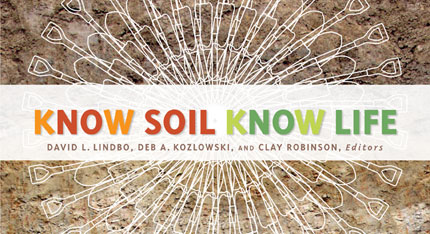 Know Soil Know Life, edited by Daniel Lindbo, Deb Kozlowski, and Clay Robinson.