Here's another in a series of posts on the global reach of the Land Library's 35,000+ volumes devoted to people and the land:
"Palani Mohan first made contact in 2013, sending me a selection of photographs from his numerous trips to the Altai Mountains in the far western reaches of Mongolia. It is a vast and unforgiving landscape, where temperatures routinely drop to minus forty degrees celsius in winter, and where the skies are filled with forbidding lenticular cloud formations. During the long winters the burkitshi (eagle-hunters) leave their homes with horse and eagle, and head into the mountains to hunt for several days at a time. Palani's photographs struck me as forcefully as conveying not only the hard beauty of this wild and seemingly empty terrain, but also, more significantly, the intense relationship that the hunter forges with his eagle. It is this bond of mutual respect and trust that defines the life of the burkitshi and gives it profound meaning." — Hugh Merrell, from the foreword.
With over eighty doutone images, Hunting with Eagles: In the Realm of the Mongolian Kazakhs is one of the most visually stunning books the Land Library has seen in a very long time. As award-winning photographer Palani Mohan explains in his introduction, this is a culture under threat. There are no more than fifty hunters left, and that alone motivated Mohan to record this unique relationship between man and bird.
The golden eagle is a perfect predator, with an awe-inspiring wingspan, a beak built to rend flesh, and talons that can kill prey instantly by piercing the heart. A fox is easy prey, and when hunting in pairs, eagles are capable of bringing down a wolf — Palani Mohan
"Madina, a 63-year old Kazakh wearing a fox-skin coat, cradles his six-year old eagle in his arms. 'They love to be carried in such a way. It makes them feel loved and relaxes them, just like a baby', he told me."
"Even though the eagles are kept in the hunters' homes, they remain wild birds with a finely honed killer instinct."
"I sat in a rocky crevice and found myself listening to the wind roaring around the contours of the mountains and whipping the grass, ever-changing in tone and volume, and becoming deafening at times. As the hours wore on, I thought about everything but also nothing, and felt utterly at peace. With only nature's symphony and my silent guide for company, I experienced one of the most memorable moments of my time in Mongolia."
Palani Mohan's work has appeared in the pages of National Geographic, and he is also the author of Vanishing Giants: Elephants of Asia. For much more, please visit Palani Mohan's website!
And here's two related books from the Land Library's collection:
Both by naturalist Stephen Bodio: An Eternity of Eagles, a natural and cultural history of eagles across the globe, and Bodio's own field report from the land of the Kazakhs: Eagle Dreams: Searching for Legends in Wild Mongolia.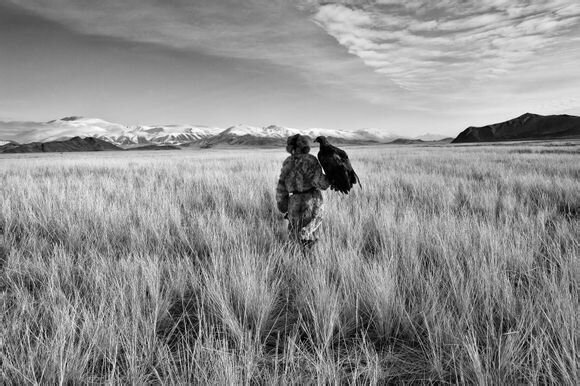 Many years ago, Colorado ecologist David Cooper compared the high mountain grasslands of South Park to the steppes of Mongolia. With Buffalo Peaks Ranch (the Land Library's headwaters site) located in the middle of South Park, no wonder we keep adding Mongolian books to our collection. They are some of our favorite books!
To learn much more about the Rocky Mountain Land Library here's a short video set at Buffalo Peaks Ranch: